You Are Cinderella!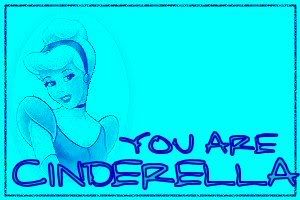 Dignified and hard working. With a gentle and soft-spoken manner you have something many people don't. Patience. Even through the moments of heartbreak you're still able to hold onto all of your hopes and dreams. Bide your time; your dream will come true.
Which Disney Princess Are You?
i am so NOT cinderella. didn/t she, like, clean the whole castle, wash the dishes, mop the floors, cook the meals, do her sister/s hair, sew the clothes, etc etc. that sounds to me a lot more like my baby sister (the one with 4 kids, a husband, and a dog) than it does like me. but i filled this out first with the best answers, then again with the second best answers, then again with the third, and they all ended up being cinderella. not to mention i don/t think anyone who knows me, except maybe my doctor, would use the word 'patient' to describe me. stupid disney princess quiz.